GNC Earth Genius™ Immune TonIQ - Raspberry
Details
https://www.gnc.com/natural-remedy-supplements/318519.html
Promotions
Size: 20 Servings
The product quantity for an item in your shopping cart has exceeded our Maximum Purchasing Policy. Please adjust your quantity to (12) and try again.
Your product couldn't be added to the basket because it is out of stock.
My Store
View All Specialty Diets
Product Information
product.information.additionalinfo
Description
Join the resistance with GNC Earth Genius™ Immune TonIQ. Support your immune health and aid in your natural resistance with this fortifying daily supplement.
Key Benefits
Supports immune health with vitamin C, a powerful and protective antioxidant
Contains a blend of three different organic mushrooms: Maitake, Reishi and Shiitake
Protects against free radical damage with superfood antioxidants
No artificial colors, flavors or sweeteners
Gluten free, non-GMO, vegan
Ingredients
Nutrition Facts
Serving Size  1 Scoop(s)
Servings Per Container  20

---

Amount Per Serving
 
 
% DV

---

Calories
20
 

---

Potassium
15mg
 
Total Carbohydrate
5g
 
2%
Total Sugars
1g
 
Includes 0g Added Sugars
0
 
Vitamin C
250mg
 
278%

---

Acai Extract (Euterpe oleracea)(fruit) 
1500 mg
 
**
Blueberry Powder (Vaccinium corymbosum)(fruit) 
1500 mg
 
**
Acerola Fruite Juice Powder (Malpighia glabra L.) 
800 mg
 
**
Bee Pollen Powder 
625 mg
 
**
Organic Maitake Mushroom Powder (Grifola frondosa) 
240 mg
 
**
Organic Reishi Mushroom Powder (Ganoderma lucidum) 
180 mg
 
**
Organic Shiitake Mushroom Powder (Lentinula edodes) 
180 mg
 
**

---

** Daily Value (DV) not established.
Other Ingredients
Natural Flavors (Natural Raspberry Flavors and Other Natural Flavors), Citric Acid, Stevia Extract, Calcium Silicate, Monk Fruit Extract
Contains: Bee Pollen
How To Use
Use daily for extra immune support. Add one scoop to 8 fl. oz of cold water and mix thoroughly or supplement a smoothie with an extra scoop. Keep out of reach of children. Store in a cool, dry place.
Warnings
Consult your physician prior to using this product if you are pregnant, nursing, taking medication, or have a medical condition. Discontinue use two weeks prior to surgery. , Notice: Significant product settling may occur.
Storage
Keep out of reach of children., Store in a cool dry place.
Distributed by:
General Nutrition Corporation
Pittsburgh, PA 15222 USA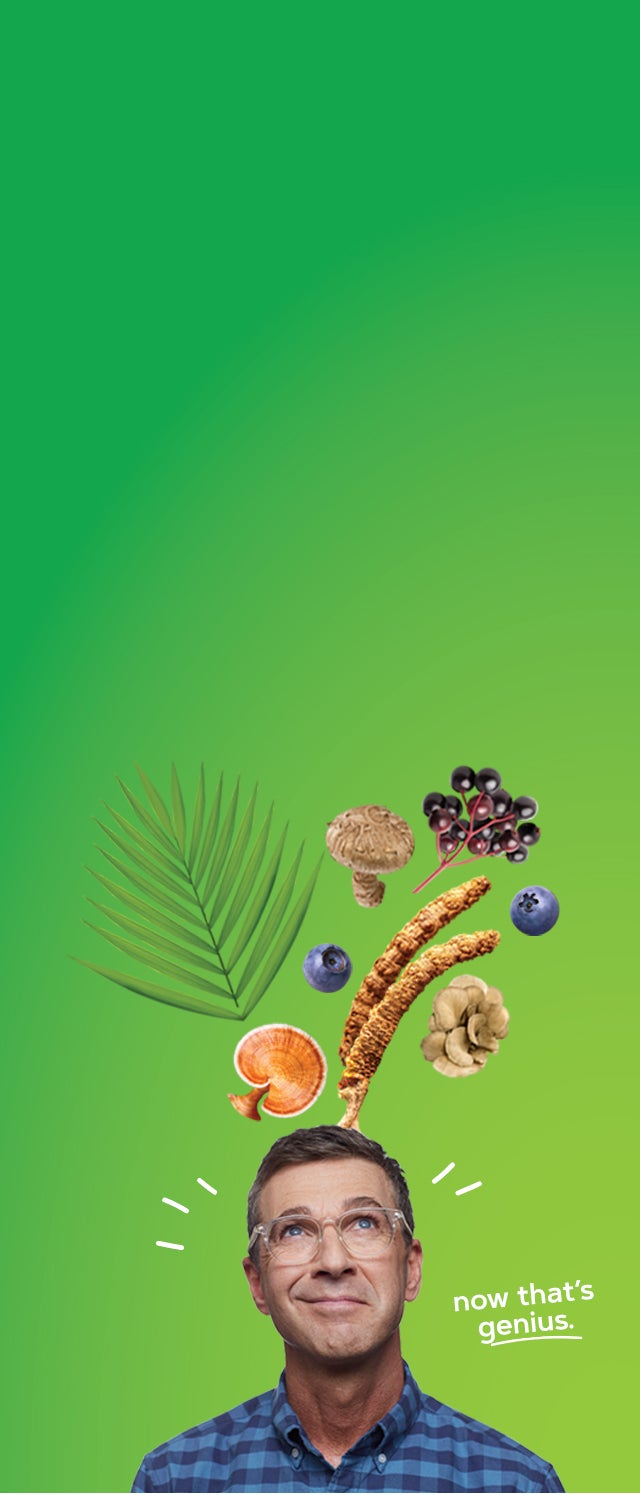 vegetarian, gluten-free, non gmo, no articicial colors, flavors or sweeteners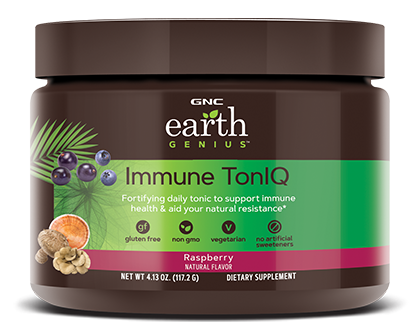 Reviews
What I did....
I have a blender bottle, and let it seat for 5 mins. blending inbetween. It desolved for me and used little water, the taste wasn't bad. I got this out my sample box...First time using..
Does what it claims
The flavor is almost too subtle but adding lemon juice makes a huge improvement.
Great Flavor.... if it would dissolve
I tried a blender bottle, the spray nozzle on my sink, stirring with a fork and everything in between. The powder floats on top, sticks to everything and just won't dissolve.
Browse 2 questions
Browse 2 questions and 3 answers
What do the mushrooms do to assist the immune system and are there any hallucinating properties in them please?
BEST ANSWER:
They are not the mushrooms you are thinking of lol. Look up the benefits of just Reishi and you'll see. Mushroom benefits are one of the most over looked!
Is this okay to take while pregnant?
BEST ANSWER:
There is a warning in the packet if you are pregnant, nursing, and taking any medications to consult your doctor first. It's also not to be taken 2 weeks prior to any surgery,