Probiogen™ Men's Vitality Probiotic
Details
https://www.gnc.com/mens-sexual-health/556108.html
Promotions
Size: 30 Vegetarian Capsules
The product quantity for an item in your shopping cart has exceeded our Maximum Purchasing Policy. Please adjust your quantity to (12) and try again.
Your product couldn't be added to the basket because it is out of stock.
My Store
View All Specialty Diets
Product Information
product.information.additionalinfo
Description
Probiogen™ Men's Vitality Probiotic supplement is the first DNA-verified spore strain probiotic formulated with a complete balance of prostate health nutrients. This unique formula supports digestive and immune system health by providing live, active Smart Spore Technology™ probiotics that are designed to survive digestion, helping to restore the balance of good bacteria for better health from the inside out.
Benefits:
Includes prostate health-focused nutrient such as saw palmetto as well as vitamin K2 and boswellia
Features probiotic benefits including providing digestive* and immune system health support*
Contains breakthrough Smart Spore Technology™, which is clinically proven to survive and thrive in the gut 100x better than leading brands and yogurts*
Probiogen's probiotics arrive alive
Men's Vitality Probiotic does not need refrigerated, plus it's dairy free, gluten free, soy free and non-GMO
Only Probiogen provides microbiologist-formulated probiotics that are DNA-verified to guarantee the potency and safety of their products
Ingredients
Nutrition Facts
Serving Size  1 Vegetarian Capsule(s)
Servings Per Container  30

---

Amount Per Serving
 
 
% DV

---

Vitamin K2 (as Menaquinone-7)
50mcg
 
42%

---

Saw Palmetto (Seronoa serrulata) Extract (berry)(standardized to 45% fatty acids) 
150 mg
 
**
Boswellia (Boswellia serrata) Extract (resin)(standardized to30% AKBA (3-O-acetyl-11-beta boswellia)) 
150 mg
 
**
Men's Vitality Probiotic Blend 
4 billion CFU
 
**
   Bacillus coagulans HC™
 
**
   Bacillus clausii
 
**
   Bacillus subtilis HU58™
 
**

---

** Daily Value (DV) not established.
Other Ingredients
Tricalcium Phosphate, Hydroxypropyl Methlycellulose, Cellulose Plant Fiber, Vegetable Magnesium Stearate, Silicon Dioxide
How To Use
Take one (1) capsule daily after a meal or as directed by your physician. No refrigeration needed.
Warnings
If you are pregnant or lactating, consult a healthcare professional before using this product. Store, in a cool, dry place. Do not use this product if the safety seal on the bottle is broken. Keep out of reach of children.
Manufactured for: Probiogen™
7702 East Doubletree Ranch Rd. Suite 300, #313
Scottsdale, AZ 85258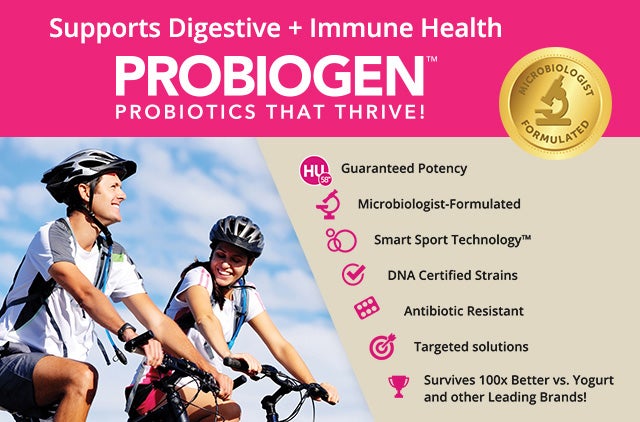 Reviews
Great Prostate Health Supplement
I take this product in place of several different supplements that I used to take for prostate & gut health - it has it all in one capsule, and a great probiotic formulation that's made a big difference in my digestive comfort, I feel.