GNC Earth Genius™ Calming TonIQ - Lemon Cucumber Mint
Details
https://www.gnc.com/green-food-blends/318513.html
Promotions
Size: 40 Servings
The product quantity for an item in your shopping cart has exceeded our Maximum Purchasing Policy. Please adjust your quantity to (12) and try again.
Your product couldn't be added to the basket because it is out of stock.
My Store
View All Specialty Diets
Product Information
product.information.additionalinfo
Description
Take care of daily stresses with GNC Earth Genius™ Calming TonIQ. Relax and unwind after a stressful day with this soothing daily supplement.
Key Benefits:
Supports a sense of calm and relaxation with clinically studied L-theanine
Features Ashwaganda root extract, an adaptogen that has been used for centuries in traditional medicine
Contains an adaptogenic mushroom blend with three types of organic mushrooms
No artificial colors, flavors or sweeteners
Gluten free, non-GMO
Ingredients
Nutrition Facts
Serving Size  1 Scoop(s)
Servings Per Container  40

---

Amount Per Serving
 
 
% DV

---

Calories
10
 

---

Total Carbohydrate
2g
 
1%
Total Sugars
0g
 
Includes 0g Added Sugars
0
 
Magnesium (as Magnesium Citrate)
125mg
 
31%

---

KSM-66® Ashwagandha Root Extract (Withania Somnifera) 
300 mg
 
**
Organic Adaptogen Mushroom Blend 
250 mg
 
**
   Chaga Mushroom Powder (Inontus obliquus)
 
**
   Cordyceps Mushroom Powder (Cordyceps sinensis)
 
**
   Reishi Mushroom Powder (Ganoderma lucidum)
 
**
Chamomile Flower Powder (Chamomilla recutita) 
110 mg
 
**
Suntheanine® L-Theanine 
100 mg
 
**
Hops Flower Extract 4:1 (Humulus lupulus) 
60 mg
 
**

---

** Daily Value (DV) not established.
Other Ingredients
Natural Flavors (Natural Lemon Flavor, Natural Cucumber Extract, Natural Mint Flavor, Other Flavors), Xanthan Gum, Citric Acid, Malic Acid, Stevia Extract, Monk Fruit Extract
Contains Milk
How To Use
Add one scoop to 4 fl. oz. of cold water and mix thoroughly. For best results, enjoy two servings daily.
Warnings
Consult your physician prior to using this product if you are pregnant, nursing, taking medication or have a medical condition. Discontinue use two weeks prior to surgery.
Storage
Store in a cool, dry place., Keep out of reach of children.
Distributed by:
General Nutrition Corporation
Pittsburgh, PA 15222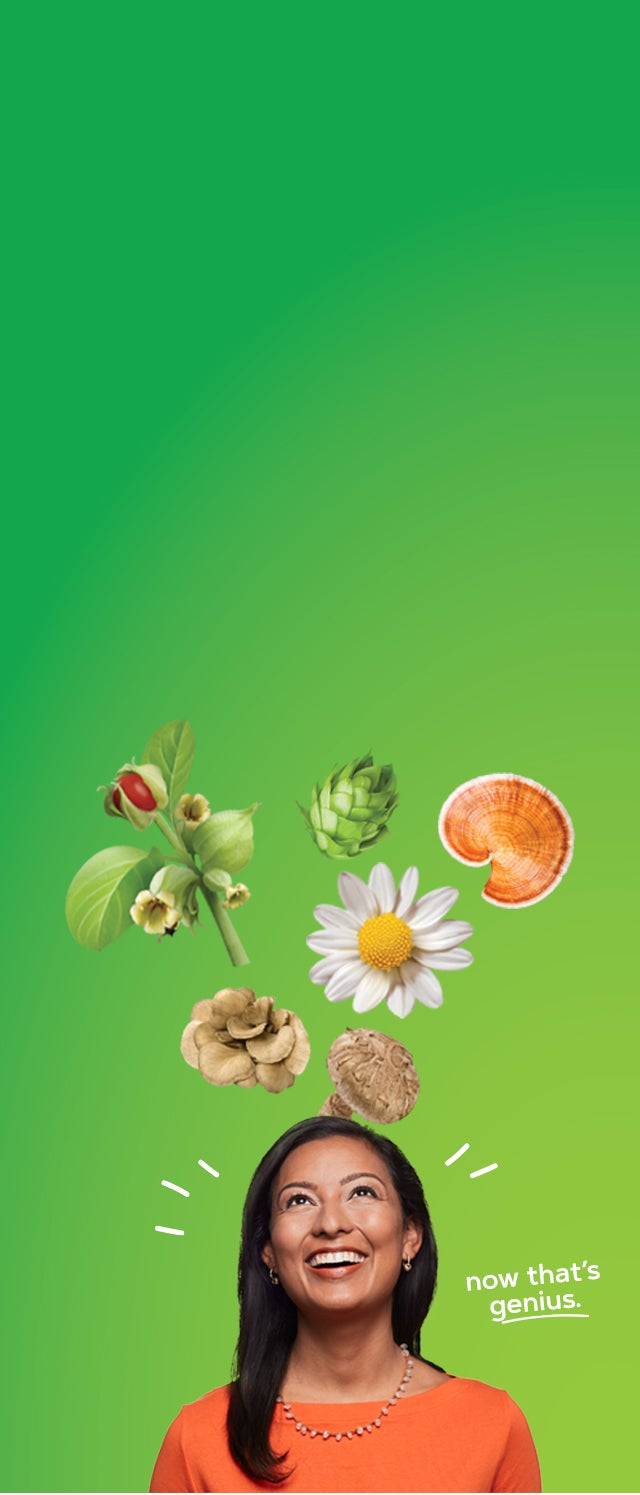 gluten-free, non gmo, no articicial colors, flavors or sweeteners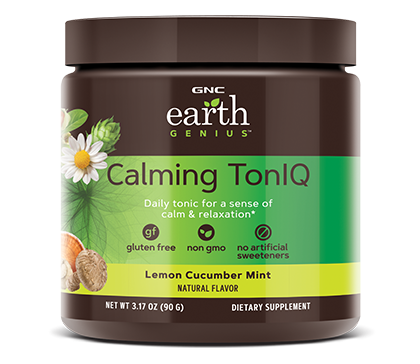 Reviews
Seriously helps!!!!
I live with general anxiety and have found that I often experience anxiety symptoms at night (rapid heartbeat, tightness in the chest). While this product is not a prescription to treat anxiety, I have found that it helps calm my anxiety symptoms, usually within 30-45 minutes after taking it. I have only been taking it in the evenings because it relaxes me so much and helps me sleep better. My husband also takes, which helps him stress less and sleep better. Highly recommend this product!
LOVE!!
I love this product so much. Ive been using it consistently for 40 days and even without taking it twice a day (as the directions state) I feel so much better. I feel less in my mind, like i am more present and focused on matters at hand. I feel an overall sense of calm throughout the whole day. I recommend this product to all of my friends. This product is not made to treat anxiety, however, i feel so much better now that ive started using it. 10/10!!!
Browse 2 questions
Browse 2 questions and 4 answers
Would this supplement be considered a sleep aid?
BEST ANSWER:
This product is not labeled as a sleep aid. However, I have found that when I take it in the evening, I do sleep better since it helps calm my anxiety symptoms. It also relaxes my husband and helps him sleep better too.
Does calming ton IQ have any side effects?
BEST ANSWER:
I have only used it one time, and I did not have any noticeable side effects.
JILL S

on May 3, 2019

Purchased on Feb 17, 2019