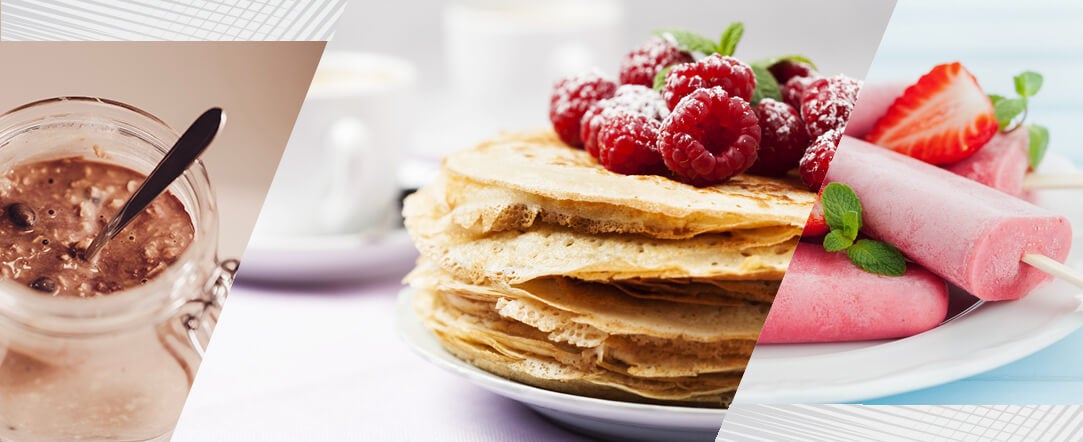 Four Ways To AMP Up Protein Intake
It's pretty easy to think of foods high in protein to eat for dinner. Finding interesting ways to incorporate protein recipes into the rest of your day is the challenging next step to keep pushing your goals. Here, we're sharing four nutritious and delicious ways to AMPlify the protein in your meal plan.
1. Breakfast Protein: Start Mornings Strong
Whether or not you like it hot, getting adequate protein at breakfast is important for a variety of fitness goals. New and nostalgic whey protein powder flavors work magic in our pancakes and oats—great warm or cold!—making it easy and convenient to pick performance protein over greasy bacon or sausage.
2. DIY Snacks: Refuel For Results
Don't let hitting crunch time stop you from crushing your goals. For chocolate cravings or a snack after the gym, start prepping these easy high protein recipes that are designed to satisfy between meals. You'll love our protein bites, bars and no bake treats!
3. Smoothies & Supplements: Superior Protein Shakes
Need to jumpstart your day? Just hit blend. Smoothies and shakes are some of the easiest and most refreshing ways to infuse whey protein or protein blends into your diet. With new flavors being formulated daily, adding fresh fruit is only the beginning of your options.
4. Frozen Desserts: No Cheat Sweets
After a moment of triumph, you deserve a sweet taste of victory. Celebrate your next personal best with pure dessert decadence and ultra-pure protein. If your cheat day dream is outrunning the ice cream truck—don't pass on these!
---
Related Articles
---

---