Probiogen™ Daily Digestion Balance Probiotic
Details
https://www.gnc.com/probiotics/556104.html
Promotions
Size: 30 Vegetarian Capsules
The product quantity for an item in your shopping cart has exceeded our Maximum Purchasing Policy. Please adjust your quantity to (12) and try again.
Your product couldn't be added to the basket because it is out of stock.
My Store
View All Specialty Diets
Product Information
product.information.additionalinfo
Description
Research shows that digestive health plays a major role in your overall well-being. Poor diet, pollutants and antibiotics can all wreak havoc in our gut. Probiogen's Daily Digestive Balance Probiotic provides live, active cultures that survive digestion to restore the balance of good bacteria in your digestive tract for digestive and immune system health support.* When it comes to probiotics, more is not always better—1.5 billion thriving spore CFUs is equivalent to 100+ billion CFUs in today's leading probiotics. The main difference is Probiogen's probiotics arrive alive!
Benefits:
Provides one of the highest potency spores and yeast probiotics on the market for superior digestive* and immune system health*
Contains breakthrough Smart Spore Technology™, which is clinically proven to survive and thrive in the gut 100x better than leading brands and yogurts*
Daily Digestive Balance Probiotic does not need refrigerated, plus it's dairy free, gluten free, soy free and non-GMO
Only Probiogen provides microbiologist-formulated probiotics that are DNA-verified to guarantee the potency and safety of their products
Ingredients
Nutrition Facts
Serving Size  1 Vegetarian Capsule(s)
Servings Per Container  30

---

Amount Per Serving
 
 
% DV

---

Daily Digestive Balance Blend 
8 billion CFU
 
**
   Saccharomyces boulardii
 
**
   Bacillus clausii
 
**
   Bacillus subtilis HU58™
 
**
   Bacillus coagulans HC™
 
**

---

** Daily Value (DV) not established.
Other Ingredients
Hydroxypropyl Methylcellulose, Cellulose Plant Fiber
How To Use
Take one (1) capsule daily after a meal or as directed by your physician. No refrigeration needed.
Warnings
If you are pregnant or lactating, consult a healthcare professional before using this product.
Manufactured for: Probiogen™
7702 East Doubletree Ranch Rd. Suite 300, #313
Scottsdale, AZ 85258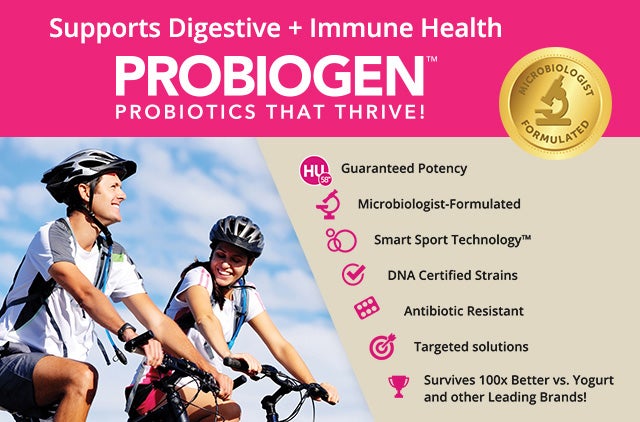 Reviews
Game changer!
I was taking the GNC daily formula with 25 billion CFU. Had been taking them for a couple of years. But a few months ago, I was put on a medication that was causing me to not be able to "go" for days at a time. This got to be VERY painful. I ordered this probiotic, figuring that I would add it to what I was already taking but as an experiment I started taking just the Probiogen. I am almost 3 weeks in with just one of these capsules a day and Im back to myself again! Haven't had a single issue since! Probiogen for the win!!
Amazing Spore Cultures - they work!
I have been buying this product online from the brand site and was pleased to see it on GNC at a lower price! The product is a high quality natural product. It is vegan, GMO free and Gluten free which is important as I have allergies. My doctor told me to start a probiotic proactively even though I have no gut issues. BUT said it could help me avoid all the sinus infections I was having and 5 cycles of antibiotics! Not sure if this is it but it has been a year and I have stopped having those reoccurring infections. Really boosts immune system based on reading about these strains. They are prescription products in Europe and newer to the US. Highly recommend and now have Husband on the Men's and he finally no longer has acid reflux! Mom is on Womens as she was having menopause symptoms and those stopped. Will try the new item I see with vitamins at GNC. A life changer for me!