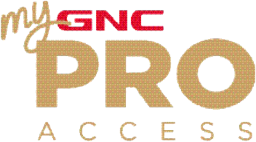 PREMIUM PERKS. JUST FOR PROS.
Pros get the best of both worlds: the benefits of myGNC Rewards, plus all the perks that come with a premium membership. Go PRO for just $39.99 a year.
SIGN UP TODAY!
PICK-YOUR-DAY SALES
FREE SHIPPING
PRO BOXES
PRO ACCESS GIVEAWAYS*
AN EXTRA MONTH TO REDEEM REWARDS
PRO ACCESS INSIDER LINE

PICK-YOUR-DAY SALES
Get ready to be a boss and rack up Cash Back Rewards with quarterly personal sale days. You'll get a 3x Rewards Points offer to use in store or online every 90 days.

PRO BOXES
Get free gifts, 8+ samples, coupons and more, delivered to your door twice a year. Choose a men's or women's Performance, Wellness or Weight Management PRO Box to get tons of good stuff for your goals.