Probiogen™ Mega Smoothie Booster
Details
https://www.gnc.com/probiotics/556103.html
Promotions
Size: 7 oz.
The product quantity for an item in your shopping cart has exceeded our Maximum Purchasing Policy. Please adjust your quantity to (12) and try again.
Your product couldn't be added to the basket because it is out of stock.
My Store
View All Specialty Diets
Note: This product cannot be sold in Japan
Product Information
product.information.additionalinfo
Description
Meeting your daily goal for so many different nutrients can be a challenge, but just one scoop of Mega Smoothie Booster powder contains 20 vitamins and minerals plus revolutionary probiotics for complete energy, digestive and immune health support! This probiotic smoothie powder completes the recommended daily value of 15 vitamins and minerals, including vitamins B12, A, C, E and more.
Benefits:
Features probiotics to provide digestive* and immune system health support*
Blends easily and tastelessly so you can enjoy your favorite drinks with a huge nutritional boost
Contains breakthrough Smart Spore Technology™, which is clinically proven to survive and thrive in the gut 100x better than leading brands and yogurts *
Free of gluten, soy, dairy, sugar and GMOs, so it is perfect for a number of dietary needs and restrictions
Only Probiogen provides microbiologist-formulated probiotics that are DNA-verified to guarantee the potency and safety of their products
Ingredients
Nutrition Facts
Serving Size  1 Scoop(s)
Servings Per Container  36

---

Amount Per Serving
 
 
% DV

---

Vitamin A (as Retinyl Acetate)
900 mcg
 
100%
Vitamin D3 (as Cholecalciferol)
30 mcg
 
150%
Niacin (as Niacinamide)
15 mg
 
94%
Folic Acid
400 mcg
 
100%
Vitamin B12 (as Cyanocobalamin)
250 mcg
 
1041%
Pantothenic Acid (as Calcium d-Pantothenate)
5 mg
 
100%
Iron (as Ferrous Fumarate)
6 mg
 
33%
Magnesium (as Magnesium Oxide)
350 mg
 
83%
Zinc (as Zinc Oxide)
12 mg
 
83%
Selenium (as Selenium Chelate)
70 mcg
 
127%
Chromium (as Chromium Picolinate)
50 mcg
 
143%

---

Vitamin C (as Ascrobic Acid) 
400 mcg
 
**
Vitamin E (as Dl-alpha tocopheryl acetate)  
360 mg
 
**
Vitamin K 
180 mcg
 
**
Thiamin (as thiamine monoitrate) 
90 mcg
 
**
Riboflavin (Vitamin B2) 
90 mcg
 
**
Vitamin B6 (as pyridoxine hydorchloride) 
1.7 mg
 
**
Calcium (as calcium carbonate, calcium d-pantothenate) 
1200 mg
 
**
Copper (as Copper sulfate anhydrous) 
1.5 mg
 
**
Probiotic Blend 
3 billion CFU
 
**
   Bacillus coagulans HC™
 
**
   Bacillus subtilis HU58™
 
**

---

** Daily Value (DV) not established.
Other Ingredients
Maltodextrin
How To Use
Mix one scoop of powder with your favorite smoothie for daily a dose of probiotics, vitamins and minerals. You can also mix with yogurt or oatmeal. Our formula is unflavored so it wont change the taste o your smoothie. Will not dissolve in water.
Warnings
Consult a health care professional before using this product. Vitamin K may counteract the effects of anticoagulant therapy, and therefore is not recommend for patented on blood thinner medications. Discontinue use two weeks prior to surgery. Store in a cool, dry place. Do not use if the safety seal on the bottle is broken.
Warning: Accidental overdose- of iron-containing products is leading of fatal poisoning in children under 6. Keep this product out of reach of children. Store ,in a cool dry place. Do not ue this product if the safety seal on the bottle is broken.
Manufactured for: Probiogen™
7702 East Doubletree Ranch Rd. Suite 300, #313
Scottsdale, AZ 85258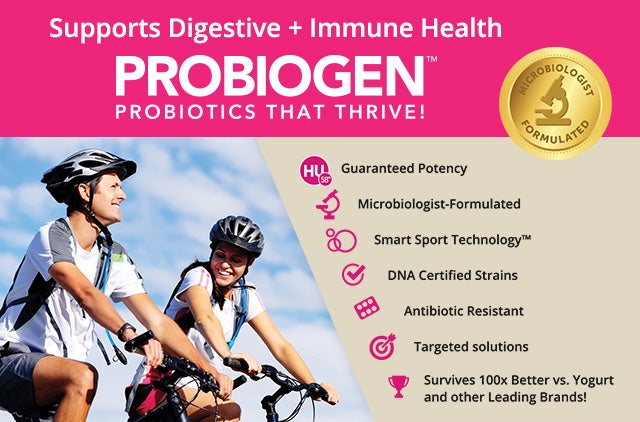 Reviews
LOVE this product!!
It has all I need from a multi-vitamin point of review, plus really good probiotics - it's become a must-add to my daily fruit & greens smoothy. I used to take multiple supplement capsules to get the same combination of vitamins, mineral, and probiotics, now I just add a scope to my blender in the morning and done!
Browse 1 question
Browse 1 question
How many calories are in one scoop of probiogen Mega smoothie booster?