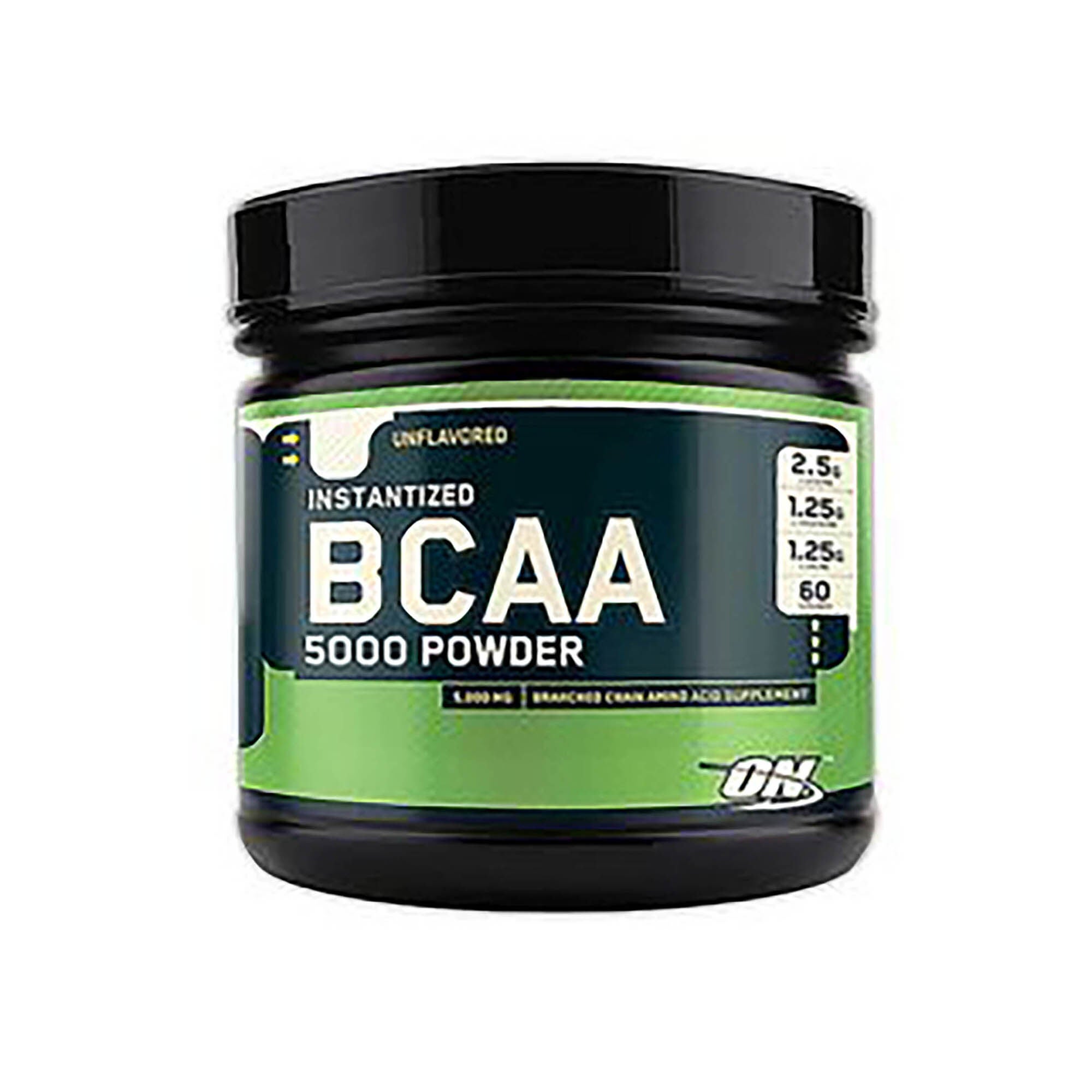 352277
Optimum Nutrition
Shop GNC for Optimum Nutrition BCAA 5000 to help build muscle and reduce recovery time. Add to your favorite beverage and drink 30 minutes before working out.
748927025224
Optimum Nutrition BCAA 5000 - Unflavored
352277
Note: This product cannot be sold in Japan, Canada
Description
THE TRUE STRENGTH OF BRANCHED CHAIN AMINO ACIDS (BCAAS)
L-Leucine, L-Isoleucine, and L-Valine are commonly grouped together and referred to as Branched Chain Amino Acids, or BCAAs, because of their unique branched chemical structure. BCAAs are essential, meaning that they must be consumed through the diet, since the human body cannot make them from other compounds. BCAAs have long been used by strength-training and endurance athletes alike to activate protein synthesis and reduce muscle breakdown caused by intense training. Our Instantized BCAA 5000 Powder is made using a proprietary process that mixes easily and keeps the BCAAs suspended longer so they do not readily settle to the bottom of the glass. Because if you can't drink your BCAAs, they can't help your performance.
SPOON STIRRED: Add 1 heaping teaspoon of Instantized BCAA 5000 Powder to a glass filled with 8-10 oz of water or your favorite beverage. Then mix it up with a spoon. Stir for about 15-20 seconds.

SHAKER:Just add 1 heaping teaspoon of Instantized BCAA 5000 Powder to your shaker cup filled with 8-10 oz of your favorite beverage. Cover and shake for about 10 seconds to ensure a good mix. Don't have a shaker cup? Order one at optimumnutrition.com or check your local health food store or gym. TIP: Try adding Instantized BCAA 5000 Powder to your favorite protein powder, meal replacement product, or weight-gainer shake.

SUGGESTED USE: Consume Instantized BCAA 5000 Powder between meals, 30-45 minutes before workouts, and/or immediately after workouts.
Warnings

KEEP OUT OF REACH OF CHILDREN. CHECK WITH A QUALIFIED HEALTHCARE PROFESSIONAL BEFORE TAKING THIS PRODUCT IF YOU ARE PREGNANT, NURSING A BABY, UNDER 18 YEARS OF AGE, OR IF YOU HAVE ANY KNOWN OR SUSPECTED MEDICAL CONDITION(S) AND/OR ARE TAKING ANY PRESCRIPTION OR OTC MEDICATION(S).

Sunrise, FL 33325 Consumer Affairs ©2010 OPTIMUM NUTRITION, INC
Nutrition Facts
Serving Size  1 Heaping Teaspoon
Servings Per Container  60

---

Amount Per Serving
 
 
% DV

---

Micronized L-Leucine 
2.5 g
 
**
Micronized L-Isoleucine 
1.25 g
 
**
Micronized L-Valine 
1.25 g
 
**

---

** Daily Value (DV) not established.
Other Ingredients
Inulin, Lecithin CONTAINS SOY (LECITHIN) INGREDIENTS.